Chelsea Hotel Toronto
43.6587158

,

-79.3830855
168US$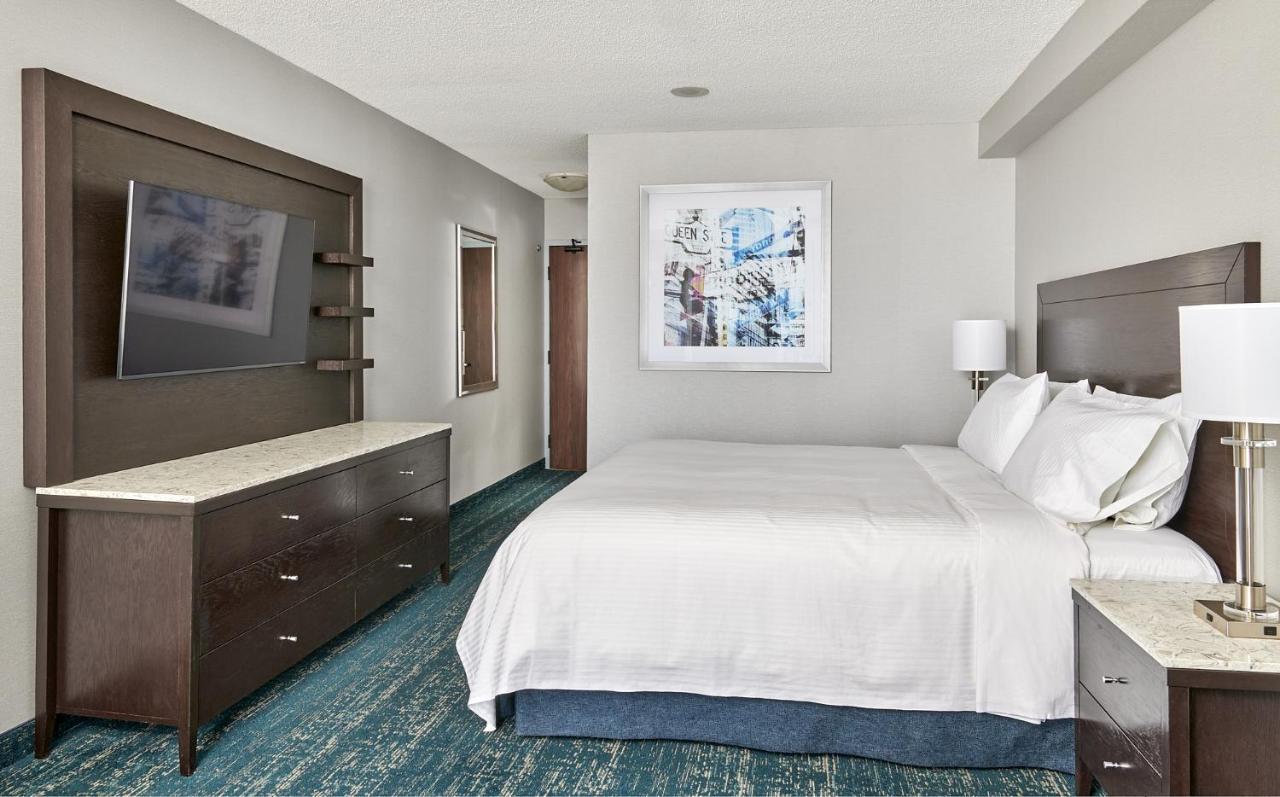 Address
33 Gerrard Street West
,
Toronto
,
Canada
,
M5G1ZA
, Ontario
Overview
The 3-star Chelsea Hotel Toronto is placed in a shopping area of Toronto, merely 11 minutes by foot from the 1800s Neo-Gothic Catholic church "St Michael's Cathedral Basilica" and 5 minutes by car from St. Lawrence Public Market. Boasting an ideal setting within spitting distance of a metro station, the eco-friendly hotel offers spacious rooms plus a solarium, a Jacuzzi and sauna facilities.
Location
This hotel is located just walking distance from Arts & Letters Club of Toronto, in the center of Toronto. The Chelsea Hotel offers proximity to natural sights like Queen's Park (0.5 miles) and Berczy Park (1 mile). Visit Devonian Pond, approximately 0.2 miles away from the modern accommodation, and feel complete harmony with the nature of Canada. Chelsea Hotel Toronto is placed in the adjacency of the large Art Gallery of Ontario, while Toronto Coach Terminal - Elizabeth Terminal bus station is 5 minutes' stroll away.
Rooms
There are carpeted rooms at this Toronto hotel, some of them come with free WiFi and a flat-screen TV with satellite channels and include private bathrooms fitted with a tub and showers. Certain units feature spacious interior along with a carpet flooring. Some units feature views of the city.
Eat & Drink
You can enjoy a complimentary buffet breakfast in the restaurant. Chelsea Hotel Toronto has a traditional Market Garden restaurant that serves Indian meals. Guests are welcome to a coffee bar on site.
You can start your day with a full breakfast, which costs CAD 37.29 per person per day. 
Leisure & Business
A sundeck and water slides are available for additional fees. The accommodation also offers a gym area and an indoor pool among other facilities. There is a fitness center with a wide range of sports. Boasting a business center along with a desk and a photocopier, the smoke-free hotel is located nearly a 7-minute stroll from Yonge-Dundas Public Square.
Internet
Wireless internet is available in the entire hotel for free.
Guest Parking
Public parking is possible on site at CAD 39 per day.
The personnel at the hotel speaks English, German, Spanish, Italian, Dutch, Portuguese, Norwegian, Swedish, Danish, Hungarian, Romanian, Japanese, Chinese, Polish, Greek, Russian, Turkish, Arabic, Bulgarian, Korean, Hebrew, Welsh, Croatian, Icelandic, Laotian, Thai, Tagalog / Filipino, Vietnamese.
Year renovated:   2011.  Number of floors:   27.  Number of rooms:   1590.
Former name: Eaton Chelsea/Delta Chelsea Toronto
Best-Rated Delta hotels Hotels around Toronto
With Delta Hotels, guests enjoy the luxury of a high-end stay without breaking the bank. From spacious rooms and welcoming staff to modern amenities and convenient locations, Delta Hotels delivers, every time. And with a commitment to sustainability and giving back to the community, Delta Hotels sets itself apart as a brand that values not just its guests, but the world at large.
49 reviews

134$ / night

75 reviews

148$ / night

101 reviews

90$ / night

234 reviews

101$ / night

96 reviews

148$ / night

35 reviews

155$ / night

31 reviews

134$ / night

289 reviews

133$ / night
Most Booked Hotels for Your Next Trip
Facilities
Most popular facilities
24-hour services
24-hour reception
24-hour security
Food/ Drinks
Bar/ Lounge area
Restaurant buffet
Snack bar
Coffee shop
Swimming pool
Indoor swimming pool
Rooftop pool
General
Wi-Fi
Parking
Baggage storage
24-hour services
Food/ Drinks
Fitness/ Gym
Swimming pool
Spa and relaxation
Services
Room service
Housekeeping
Car rental
Laundry
Dry cleaning
Tours/Ticket assistance
Wake up service
Bell staff/Porter
Dining
Continental breakfast
Restaurant buffet
Snack bar
Bar/ Lounge area
Catering service
Special diet menus
Business
Business center
Meeting/ Banquet facilities
Fax/Photocopying
Children
Babysitting/Child services
Board games
Children's menu
Water slides
Children's play area
Kids club
Game room
Facilities for people with disabilities
Spa & Leisure
Rooftop pool
Indoor swimming pool
Sun loungers
Sun terrace
Sauna
Jacuzzi
Pool with view
Shallow end
Room features
Air conditioning
Heating
In-room safe
Mini-bar
Soundproofed rooms
Sitting area
Patio
Terrace
Garden furniture
Tea and coffee facilities
Ironing facilities
Media
Flat-screen TV
Cable/ Satellite television
Telephone
AM/FM alarm clock
Good to know
Check-in
from 15:00-23:59
FREE
Check-out
until 11 am
FREE
Children & extra beds
There are no extra beds provided in a room. 
Pets
Pets are allowed on request.
Rooms and availability

Bed options:

Room size:

280 sq. feet

Max:

2 persons
Heating

Bathtub

Air conditioning

Bed options:

Room size:

360 sq. feet

Max:

4 persons
Shower

Heating

Bathtub

Balcony

Bed options:

Room size:

315 sq. feet

Max:

2 persons
Location
33 Gerrard Street West
,
Toronto
,
Canada
,
M5G1ZA
, Ontario
City landmarks
Nearby
Restaurants
Hotels nearby
Shopping Area
CF Toronto Eaton Centre
2600 ft
Aquarium
Ripley's Aquarium of Canada
1.5 mi
Museum
Royal Ontario Museum
1.0 mi
Market
St. Lawrence Market
1.1 mi
Square
Nathan Phillips Square
2900 ft
Stadium
Hockey Hall of Fame
5000 ft
Gallery
Art Gallery of Ontario
4200 ft
Public Building
Toronto City Hall
3100 ft
9 Trinity St
Distillery historic district
1.3 mi
235 Queens Quay W at Lower Simcoe St.
Harbourfront Centre
1.4 mi
Public Building
Ontario Legislative Building
2500 ft
Museum
Mac Kenzie House Historic
2200 ft
Monument
Campbell House Museum
4100 ft
Museum
Textile Museum of Canada
2600 ft
Library
Toronto Public Library
5200 ft
317 Dundas St W
The AGO, Art Gallery of Ontario
4000 ft
Church
Church of the Holy Trinity
2300 ft
Church
St Michael's Cathedral Basilica
2900 ft
Square
Yonge-Dundas Square
1800 ft
University
University of Toronto
1700 ft
Restaurant
Salad King Restaurant
900 ft
Getting around
Airports
Billy Bishop Toronto City

(YTZ)
2.9 mi
You can book a shuttle, once your reservation is complete.
Reviews of Chelsea Hotel Toronto
James

Had an amazing Christmas getaway. The hotel had great Christmas decorations that made the whole place festive and cozy. Loved the indoor pool, and luckily, it wasn't crowded during our stay. The fruit delivery and friendly staff were nice touches that made me feel special. Plus, the location was perfect for exploring the city, didn't have to waste time on transportation to see the attractions.

The bathrooms need a bit of an upgrade, some tiles were worn out, but it wasn't a big deal. Also, some guests were loud in the hallways and had no respect for other guests' peace.

Jane

Our city trip was an amazing experience! We enjoyed the complimentary breakfast which was delicious and offered a great start to the day. The location was perfect, with key facilities just a stroll away. The indoor pool provided a refreshing break for me and my family on a hot day. Plus, the temperature control was spot-on, making it even more enjoyable.

It was a shame that the breakfast menu lacked variety after a few days, so we had to try out nearby cafes. Additionally, we were disappointed that the water slide was out of action during the weekdays. It would have been great to enjoy it every day, rather than just on the weekends. Lastly, the price of the hotel was a bit steep, making us wish we had stayed elsewhere.

Derek

This hotel is conveniently located near everything, including Union Station and many tourist attractions. The room service was prompt and the breakfast was tasty. The view from the room was unbeatable, with picturesque scenes visible from the window. The leisure facilities, like the pool and gym, were top-notch and offered something for everyone.

The Wi-Fi was unreliable and often disconnected frequently.

George

The hotel of choice in Toronto. Fairly clean property with cordial staff. Units for video games for older kids. A lot of great food at breakfast time.

Margaret

Neat and convenient room with a balcony, I had a fine stay. The service was great, the staff were helpful and competent. It was in a comfy and best possible location close to a shopping mall.

Robert

Cheap hotel with competent staff. Super central location near the downtown core. And just off the centre of Toronto and Toronto and restaurant. Honestly nothing too much trouble.

Nathaniel

Low-budget hotel in a very nice area close enough to Eaton Centre. Respectful, efficient staff towards all guests. Convenient and best possible location for our visit to an artist-run gallery just a pleasant stroll away from the venue.

Christopher

My trip was made enjoyable by the fantastic complementary breakfast and the accommodating staff who made sure my room had a great view. The location allowed me to easily explore the city and find great spots to eat and drink.

Unfortunately, the room was a bit outdated and the temperature was difficult to control. Additionally, the internet was spotty and made work difficult at times.

Malcolm

Liked its amiable and consistently courteous staff.

The place was modern, it worked for me. The room was new-fashioned and soundproof with a fridge, I was happy about that. Had magnificent and perfect location in the heart of downtown Toronto.

Hugh

Got soundproof and outstanding standard double room with a fridge as expected, liked it.

Earl

The location is convenient, 1 mile from Light. The service is EXCELLENT, includes convenient parking.

Michael

Amazing food, overall beautifully designed and excellent place.

The location was marvellous and comfortable, close to all attractions, with a magnificent view. I came across Suup Health Bar, it was at a moderate distance from the hotel, offered nice shots.

Henry

The staff, everyone, was really helpful and competent. The rooms were well-appointed and brand-new, especially those with video games for older kids, a fridge plus a balcony. I was satisfied with wake-up service available.

Ryan

Had a very enjoyable stay on vacation, glad I've chosen it. The setting of hotel was unbeatable, in the heart of downtown Toronto. Moreover, I went to the lake, it's 5 minutes walk away. I did not want to leave there and would happily return.

Roland

One of the advantages - convenient rooms; they included a shower, hair dryers and towels. The venue's position was super central. It was located in a very very nice area.
FAQ about Chelsea Hotel Toronto
How far is the Chelsea Hotel Toronto from the city center?
Toronto city center is reachable within a 10-minute walk from the Chelsea Hotel Toronto.
What landmarks can I find in vicinity of Chelsea Hotel?
Top-rated landmarks in Toronto include Imagine Cinemas Market Square as well as Queen's Park, placed within 0.9 miles and 0.5 miles from Chelsea Hotel respectively. The long-standing multilevel urban mall "CF Toronto Eaton Centre" (0.6 miles) is also worth a visit.
What popular attractions are the closest to the 3-star Chelsea Hotel Toronto?
The closest landmarks to the 3-star Chelsea Hotel Toronto include the shopping mall "College Park" (0.2 miles), Ryerson University (0.3 miles) and Yonge-Dundas Public Square, accessible with a 7-minute walk.
Which airport is the closest to the Chelsea Hotel Toronto?
The closest airport to the Chelsea Hotel Toronto is Billy Bishop Toronto City airport (0.5 miles) and it is reachable with a 10-minute drive.
Is there parking at the Toronto hotel?
Yes, the Toronto hotel features a parking lot available onsite.
What dining options does the Toronto hotel offer?
The guests of the Toronto hotel can enjoy their dinner in Market Garden restaurant which serves American meals.
Can I have lunch or dinner next to the Chelsea Hotel Toronto?
Restaurants near the Chelsea Hotel Toronto include Salad King Restaurant (850 feet) famous for Thai cuisine as well as Market Garden and Espresso Coffee Bar (100 feet) featuring Canadian dishes.
Can I have breakfast at the Chelsea Hotel?
Yes, guests of the Chelsea Hotel can enjoy buffet breakfast served daily in the restaurant.
What time is check-in and check-out at the Chelsea Hotel Toronto?
Guests of the Chelsea Hotel Toronto can check in from 3 PM to 11.59 PM and check out from 11 AM to 11 AM. Late check-out is also available upon request.
How much does it cost to stay at the hotel?
The price for a room in the hotel starts at $148.
Which amenities are included in the rooms of the Chelsea Hotel Toronto?
Every room at the Chelsea Hotel Toronto includes high-speed internet for guests' entertainment.
Is there free internet in the Chelsea Hotel Toronto?
Yes, the Chelsea Hotel Toronto provides Wi Fi in the lobby free.